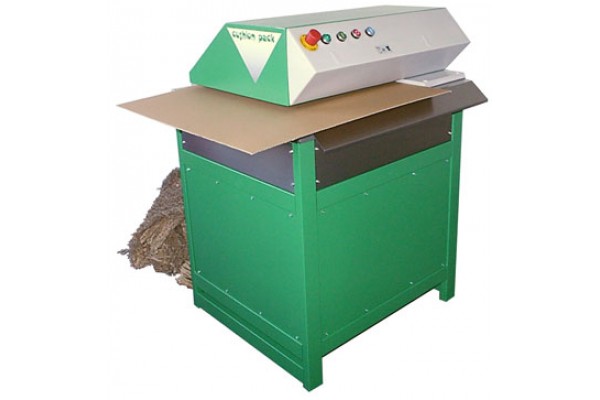 Free Shipping Dock to Dock.   Call or E-mail for a quote. Doug@theshredderman.com or 704-489-0109
Finest Commercial Corrugated Shredder! The CP430 is rugged, rugged, rugged…capable of operating 24 hours per day, 5 or 6 days per week. The challenge to Green the planet begins and ends with the hard charging Cushion Pack © cardboard shredders. The AABES CP430 is the environmentally friendly shredder that demonstrates your organizations' commitment to Green Solutions!
Green is Clean (And Always Has Been!) Green & Eco-Friendly…The Cushion Pack Shredders give you the opportunity to jump on board with th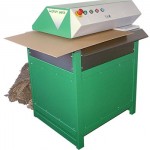 e latest and best technology in cardboard packaging. The Cushion Pack Shredders are world leaders…turn regular cardboard into green, friendly cost-effective packaging.
Anecdotal evidence of many end users is that shipping damages disappear due to packaging made from these shredders. That is a benefit too difficult to measure…the happy customer who does not complain about shipping damaged merchandise. The AABES Cushion Pack © CP430 Series 2 + cardboard shredder is ideal for taking stiff and heavy cardboard boxes and turning it into the best cushioning material for shipping departments, manufacturing and distribution facilities, and warehouses.
| | |
| --- | --- |
| Loading width – cardboard size: | Endless |
| Cutting width of cardboard: | 16.9" |
| Cardboard thickness: | Up to 0.78″ thickness |
| Production output: | 6 – 10 cubic yards per hour |
| Throughput rate: | 52 feet per minute |
| Motor Capacity: | 4.0 kW motor |
| Power supply: | 230/240V, 60 Hz, 3 Phase Also available in 480 Volt, 60 Hz with 24VAC low voltage control system. |
| Machine Dimensions: | 31" length x 30" width x 43" height |
| Machine Weight: | 740 pounds |
| Shipping NMFC# (for shipping purposes): | 126465 |
| Push Button Control Start/Stop and Reverse Functions: | Yes |
| Push Button Reset Feature: | Yes |
| Create Two Types of Material: | Adjustable to make flat sheets or pre-cushioned material – A Cushion Pack Exclusive! |